Sacred Sound & Light Immersion

This beautiful, practical and experiential two day workshop combines many different sacred sound and energy techniques, the intention being for participants to find their own inner harmony. Harmony is the balanced state where our emotions, mind and bodies are in tune with our intentions. A weekend of gong baths, sacred drumming, toning, chanting, voice and energy work, movement, meditation and silence - a time to find balance between being and doing to bring harmony and healing into your life, finding personal liberation and transformation through sound and light.

This is a wonderful opportunity for those who are interested in investigating different sound healing techniques enabling students to use their voices and different instruments as well as receiving the many benefits of sacred sound and light techniques. This powerful and blissful workshop is suitable for complete beginners who would like to find out more about sound and its effects and for the more experienced who would like to immerse themselves for two days in a conducive environment with familiar sonic healing techniques.
Workshop syllabus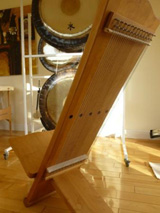 •Crystal Bowl Meditation - experiential
•Working with Rattles - practical
•Vocal applications
•Toning - practical
•Chanting - practical
•Mantra - practical
•HealthRhythms Drumming & Group Participation - practical
•Drum Healing - practical
•Drum Journey - experiential
•Monochord Chair - experiential
•Meditation & Visualisation techniques
•Gong Playing & Participation - practical
•Group Sound Bath - experiential
Duration of Course:
2 days
•
Fee:
£140
•
Deposit:
£60
Forthcoming Dates 2018:
21 & 22 April
Venue
: Sheering, Essex

Sacred Sound & Light Immersion »
Gong Master Practitioner Intensive »
Munay-Ki »